History
With AC Pro locations spread across the Southern California and Southern Nevada regions, it's hard to believe that it all began with a young man's dream. In pursuit of his dream, Dion Quinn developed the first budgets for his future company. It was the summer of 1984, and Dion used an Apple II computer to help him plan his ambitious pursuit. "I wanted to go into business for myself since I was eighteen years old. Starting a business was my focus when I got my first full-time job out of high school," says Dion.
1984 proved to be a special year for the young Dion, as he also met his future wife, Petra. They married the next year, and soon after, they founded Mechanical Systems Insulation, a mechanical insulation contracting company. With a borrowed Datsun truck and a drive to succeed, they ran their business out of a garage in Anaheim, CA. Since their business specialized in the insulation of pipes, furnaces, and other mechanical units, most of their clientele included heating and air conditioning contractors.
---

Dion's entrepreneurial spirit once again led him to start a sister-company with friend, Bob Billiu. During the summer of 1986, Dion and Bob founded Material Supply Incorporated (MSI). Although both companies had the same abbreviation, they were indeed different, as one delivered services and the other supplies. Just as its name suggests, Material Supply Inc. focused on supply sales–or more specifically, heating and cooling supplies. Through contracting and material sales, the fledgling entrepreneurs continued to gain industry knowledge and form their business identity. In fact, it is during this time that the company mission of being people-focused truly developed.
"My experience being a contractor for the first four years and working out in the field myself, I believe that helps us understand the needs of our customers. As a company, we are continually striving to make us easy to do business with," says Dion.
In fact, many of the perks of doing business with AC Pro, such as offering customers easy returns and no local delivery charges, stem from this time as well.
---

As time passed and the years moved forward, so did the sister-companies. By 1989, the Quinns decided to leave contracting behind and focus on the growing supply business. Soon after, they began fabricating sheet metal products. This paved the way for more growth. The following decade saw unprecedented expansion, as new locations opened throughout Southern California and Nevada.
---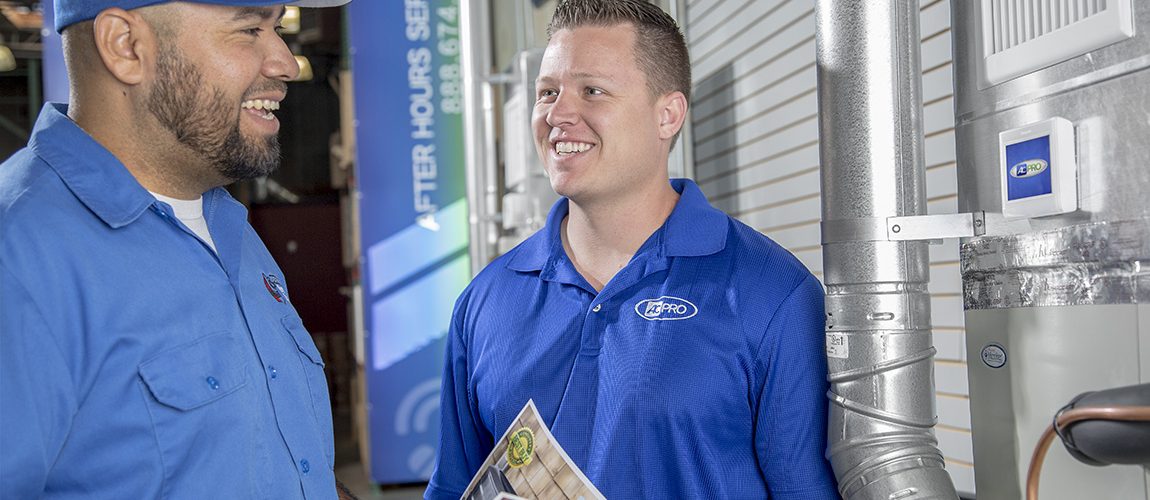 Just as helping others is at the core of God's Kids, so is helping others a fundamental virtue of our own company today. In fact, it is the strong belief in helping people that encouraged MSI to start focusing on refining its contractor programs and services in 2009. This re-focus led MSI to unveil AC Pro in 2010 as a contractor referral service for homeowners.
Since then, we have assisted many heating and cooling contractors by providing technical and product training, NATE testing, and various services that help contractors run a successful business. AC Pro continues to grow, and we have opened additional branches across Southern California and Nevada. Our company culture has also solidified itself as a place where people are valued highly and associates are encouraged to have fun at work.
We have come a long way since our contracting days, but we have learned a lot over the years. With 30 years' experience in the heating, cooling, and ventilating business, we are happy to say that we are industry experts, and we want to share our knowledge with you.
Whether you are a homeowner who needs to find the right contractor, or you are a contractor who needs to find the right product, we are committed to helping you with all of your indoor climate needs.